When it comes to keeping cool, Water Pure & Simple has you covered. We produce premium ice made only with reverse osmosis purified water. If ice looks white or cloudy, it is safe to say it was not made with purified water. Our ice is branded Crystal Clear Ice for that reason. Another contributing factor of ice quality is the cube size. Too small and the cubes crush easily, too large and cubes are hard to separate. We make the perfect mid size cube that is easy to handle, and will not turn into 'snow' in the bag.
When it comes to volume, we have you covered. Up to 24 skids per day can be produced. That is over 7500 bags! With multiple machines, our production is never halted due to breakdowns.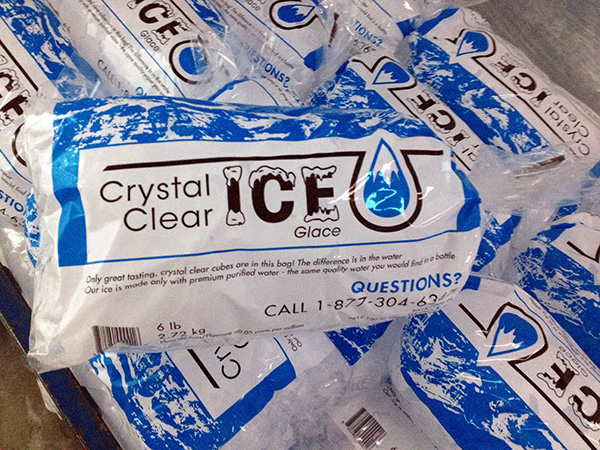 Once our Crystal Clear Ice is made, it is packaged into either 6lb or 26lb bags. The bags are clear so you can see the quality of our product.
Water Pure & Simple supplies ice to many different sources. You can find our ice at many local grocery stores, convenience stores, and campgrounds. If you are interested in becoming an ice depot, call us!
Ice is always available for pickup around the clock at our facility in Westlock. Our 24 hour ice vending machine is stocked with 6lb bags. Just swipe your Visa or MasterCard, the doors unlock, and take the ice you need. When the doors close, you're charged for the bags taken. View our ice refill locations.


Need larger volume? Stop by during business hours for 26lb bags.
Along with retail product, do not hesitate to contact with any bulk or specialty ice needs. If it's a truck or trailer load of ice for a concrete pour, industrial use, event or party, we've got you covered. In addition to our fleet of refrigerated trucks, longer distance transport can be easily arranged through a multitude of freight carriers. On special request, our bag and pallet sizes can also be tailored to your needs.